Retail Barcode Scanners and Receipt Printers
Regardless of the size of a retail business, inventory tracking is any important aspect of the business. Even though tracking and managing inventory manually is not as challenging for new and smaller businesses, a barcode inventory system is a more accurate and effective solution. In today's world, barcodes can be spotted everywhere starting from food boxes, bottles, magazines, clothing items, jewellery, and so on. These barcodes are printed on labels and carry product-related information, encoded in alphanumeric format.
That said, technological advancement introduced a simpler means to manage multiple aspects of a retail business including inventory tracking and management, employee management, customer management, and more, commonly known as a point of sale (POS) system. Gone are the days when merchants relied on hefty cash registersto store cash payments and managed transaction details manually. Not only is this a time-consuming process but is also error-prone. A point of sale (POS) system is a combination of hardware components (barcode scanners, receipt & label printers, card readers, and retail POS terminals ) and software (which is the operating system).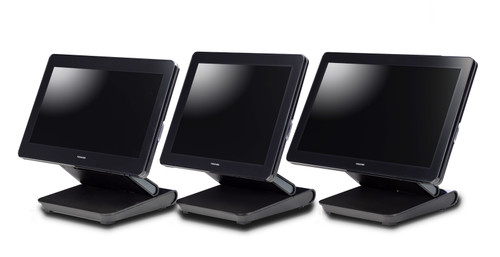 A recent report stated that "Australia's POS market is anticipated to grow at a CAGR of more than 10% during 2020-24." Factors like an affordable point of sale (POS) devices, easy installation, convenient usage, and increased demand for cashless transactions have influenced the Australian market immensely. We at POS Sales Australia strive to serve our customers by offering a plethora of premium POS brands' options and personalised assistance in picking the right solution to meet different business needs. Therefore, for any point of sale (POS) needs, contact us!
In this article, we have focussed on the widely-discussed components of a retail point of sale (POS) system – barcode scanners and receipt printers.
BARCODE SCANNERS
What are barcodes?
Barcodes are a machine-readable illustration of parallel black lines and white spaces of different widths, arranged in a square or rectangular pattern. They store product-related information like manufacturing date, expiry date, price, name of the manufacturer, etc. Every product is assigned a unique barcode. There are two types of barcodes- 1 dimensional (1D) and 2 dimensional (2D also known as QR code).
1D Barcodes: These are the most commonly used type of barcodes with all the data organised horizontally from left to right. 20-25 characters can be encoded in a barcode depending on the type of 1D barcode. UPC code, code 128, GS1 databar, PDF417 are some of the one-dimensional barcode types.
2D Barcodes: These barcodes are more intricate and are capable of arranging information both vertically and horizontally. They are capable of holding information up to 2000 characters and take less space compared to 1D barcodes. QR codes, Data Matrix, Aztec Code are some of the common 2D barcodes.
What are Barcode Scanners?
A barcode scanner is an optical device that is used to scan and read barcodes from products, capture the information and transmit it to a connected computer. The scanners comprise a source of light, a lens, and a light sensor that translates optical impulses into electrical signals. These devices make business transactions convenient, quick, and accurate.
Types of Barcode Scanners
1.Pen-type or Wand-type Scanners: These scanners come with a LED light and a photodiode on the tip. Passing the scanner slowly over the barcode helps in capturing the data encoded within the barcode. Pen-type scanners are the most affordable type of barcode scanners.
2.Laser Barcode Scanners: Although these barcode scanners function like pen-type scanners, they are more convenient and provide a more accurate result. When the laser beam sweeps across the barcode, it reads the information accurately and transmits it to the computer. These scanners are capable of reading barcodes from 15-60 cm away. There are some long-range scanners that can read from half a metre to 3 metres away, making laser scanners the most popular devices in the retail business.
3.Charge-Coupled Device (CCD) Barcode Scanners: These are also known as LED scanners as they come with hundreds of tiny LED lights. One of the most widely preferred point of sale (POS) devices, these scanners can capture information only if the barcode is 3 to 10 cm away. Even though these devices give the most accurate results, they are expensive.
4.Imager Barcode Scanner: Also known as camera-based barcode scanners, these devices can take a picture of the barcode and function on a digital decoding technique. These scanners are capable of reading barcodes irrespective of the position you hold them in and expedite the transaction process.
5.Slot Scanner: These are stationary devices that can read barcodes when it is pulled through or hand-swiped. You would come across slot scanners at gas pumps, retail stores, etc.
6.Omni directional Barcode Scanner: These scanners use a series of straight and curved scanning lines of different directions in the form of a multi-angle arrangement. Their functionality is similar to laser scanners but unlike single-line laser scanners, these devices produce a pattern of beams in different orientations, allowing them to read barcodes from any angle. Most of these scanners use a single rotating polygonal mirror and a series of multiple fixed mirrors that creates complex scan patterns.
Factors to Consider while Purchasing a Barcode Scanner
Before investing in a barcode scanner, ensure that you consider the below-mentioned factors that will help you make the right choice-
1.Type of Barcode Scanner: As discussed above, there are six prominent types of barcode scanners- slot scanner, CCD scanner, laser scanner, pen-type scanner, image scanner, and omni directional barcode scanner . Choose the one that fits your business needs as well as your budget best.
2.Design and Reliability: While purchasing a barcode scanner, ensure that you check the weight, its built, and reliability. This will give you an idea about the convenience of usage and the durability of the device.
3.Portability: In this fast-forward world, it is convenient to conduct day-to-day business chores on the go. Owning a lightweight yet effective barcode scanner is always a boon.
4.Compatibility: The most important factor while purchasing your barcode scanner is to ensure that it is compatible with your point of sale (POS) system.
10 Best Barcode Scanners in Australia
1.SOCKETSCAN S700 1D BLUETOOTH BARCODE SCANNER
2.HONEYWELL SCANNER KIT VOYAGER 1472G 2D BT
3.ZEBRA LS2208 BARCODE SCANNER USB
4.HONEYWELL VOYAGER 1250G LASER BARCODE SCANNER
5.DATALOGIC Q/SCAN QD2430 2D AUTOSENSE/STD USB BLK
6.ZEBRA SCANNER KIT DS9308 with 1D, 2D SCANNING
7.HONEYWELL SCANNER ORBIT 7190G 1D/2D HYBRID USB
8.DATALOGIC MAGALLEN 800I 2D USB KIT
9.ELEMENT SCANNER KIT P303BT 2D BLUETOOTH
10.DATALOGIC GRYPHON GM4400 2D USB KIT
RECEIPT PRINTERS
What are receipt printers?
An essential component of point of sale (POS) system, a receipt printer is used to print receipts of transactions. These receipts contain purchase-related information like date and time of purchase, name of the product, price, tax, etc. and they come in handy should a customer decide to return/exchange a purchased product. Businesses use this device not only to process payments but also to maintain transparent communication with their customers.
Other than retail environments, receipt printers are used in various industries including hospitality, healthcare, retail, warehouse, entertainment, etc.
Types of Receipt Printers
1.Thermal Printer: These printers use a heated thermal printhead which when pressed against a medium produces black texts or images. Depending on the type of thermal printer , the heated printhead either activates the thermal paper (which is chemically-treated) or transfers solid ink from the ink ribbons and combines it with the medium. Thermal printers implement two printing methods - thermal transfer printing and direct thermal printing.

Direct Thermal Printing: This printing method does not involve ribbon, ink, or toner. Its mechanism involves the printhead applying pressure and heat directly on the surface of heat-sensitive thermal paper. When the thermal paper reacts to the heated printhead, images and texts are created. Since there are no ribbons, ink, or toners involved, the maintenance cost for direct thermal paper is low. The only drawbacks of direct thermal printing are - the receipt is susceptible to fading with time since the thermal papers are heat and light sensitive and you will be able to print in just one colour at a time.
2.Dot Matrix/Impact Receipt Printer: These printers use pins or wires arranged in one or several vertical columns to print. When these pins strike an ink-coated ribbon, creating a contact between the ribbon and the paper, it results in forming small dots on the paper in the form of alphabets. Impact printers are the oldest type of receipt printers and are inexpensive printing options. However, dot matrix receipt printers produce low-quality texts and are noisier as compared to other types of printers.
Factors to Consider while Purchasing a Receipt Printer
1.Type of Printer: Ideally, there are two types of printers that are used as point of sale (POS) receipt printers quite often- thermal printers and dot matrix receipt printers.

2.Printing Speed: The printing speed of a point of sale (POS) printer affects the shopping experience of the customers. As a retail business owner, you would not want your customers to wait in line for long. Therefore, you need to be equipped with top-notch devices that speed up the checkout process, thereby offering your customers a seamless shopping experience.
3.Connectivity and Compatibility: The receipt printer you choose needs to be compatible with your point of sale (POS) system. At the same time, you need to check the type of connectivity it offers – Ethernet connection, Wi-Fi, Bluetooth, or USB connectivity.
4.Dimensions: This is one of the important aspects while purchasing a receipt printer. You would not want your printing device to consume a lot of space on your store's checkout counter. Therefore, while looking for receipt printers check the dimensions of the device thoroughly and choose a compact one.
5.Receipt Customisation: Modern-day receipts are more than just a record of the transaction. They work as a great marketing tool as you can customise these receipts and add your company/brand's logo, contact details, website, and other similar information on them to promote your business.
6.Roll Speed: When you have a long queue of customers waiting at the checkout counter, you would want to expedite the checkout process. Therefore, you need a receipt printer that offers an easy and quick roll change where all you need to do is drop in a new roll into the printer and it is all set.
7.Power Consumption: The portable, battery-operated receipt printers seem to be a more viable option in today's fast-forward world. You should look for printers that consume less electricity should you wish to minimise your overall operational costs.
8.Budget: Considering your budget is the most crucial factor while choosing a receipt printer. You need to pick a printer that not only falls within your budget but also serves your business needs by producing high-quality prints.
10 Best Receipt Printers in Australia
1.EPSON TM-T82III THERMAL RECEIPT PRINTER ETHERNET/USB
2.EPSON TMT88VI THERMAL DIRECT RECEIPT PRINTER-ETHERNET/USB/BLUETOOTH
3.EPSON TM-T82III THERMAL RECEIPT PRINTER SERIAL/USB
4.STAR MICRONICS TSP143IIIBI BLUETOOTH RECEIPT PRINTER
5.EPSON TM-U220B DOT MATEIC RECEIPT PRINTER
6.BIXOLON SRP275IIIA DOT MATRIX RECEIPT PRINTER USB
7.EPSON TM-T82III THERMAL RECEIPT PRINTER SERIAL/USB
8.STAR MICRONICS SM-T300I MOBILE MFi PRINTER
9.STAR MICRONICS TSP654II BLUETOOTH RECEIPT PRINTER
10.NEXA PX700IV 80MM THERMAL RECEIPT PRINTER
Conclusion
While purchasing your point of sale (POS) system, make sure you have done thorough research or consult a professional who would help you pick the right device. Most importantly, ensure that you request a free trial before making your choice.