Posted by Ved Krishna Dwivedi on 1st Jun 2022
Features of POS System
POS systems have gradually marked their way into the business world and have become an integral part of it, irrespective of the size of the business. The heavy cash registers have been replaced with compact and all-in-one POS systems that perform multiple functions including quick and efficient transactions, inventory management, customer relationship management, employee management, marketing, and reporting.
There are numerous operations that any business entails. Owning a powerful point of sale system can ensure the smooth functioning of all the business operations. However, the main challenge lies in choosing the perfect POS system to suit your business needs.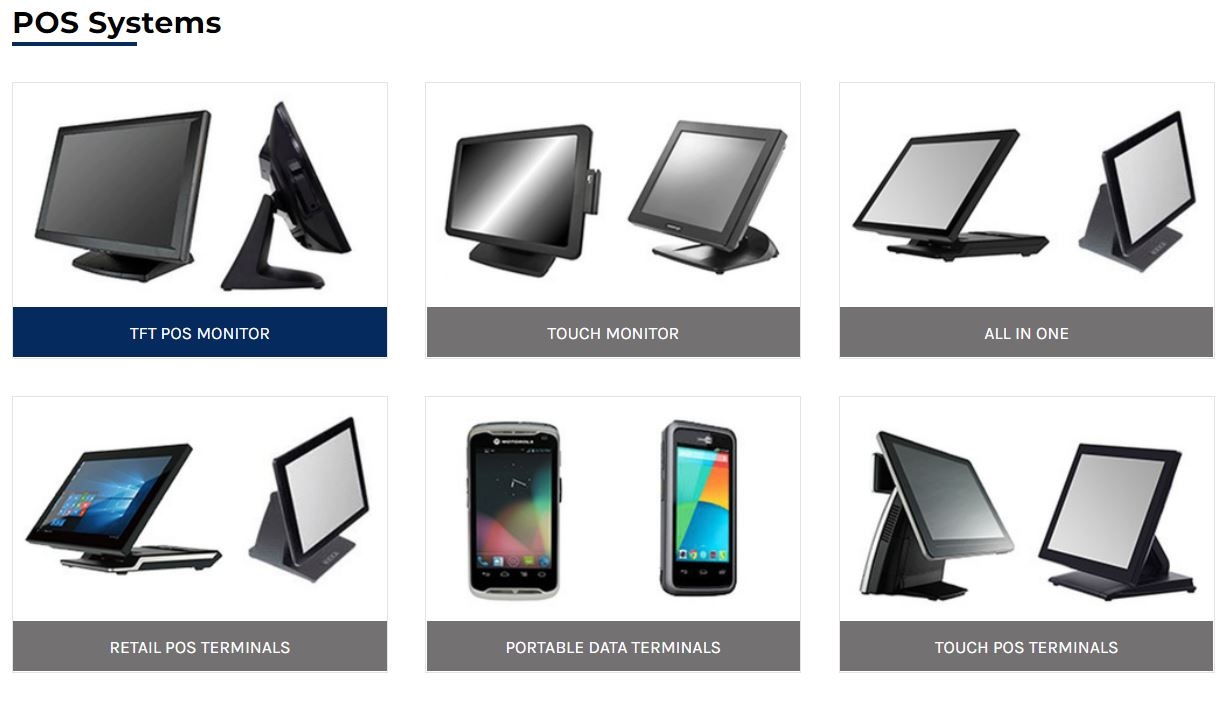 To help decide, we have drafted a complete guide to POS systems that will come in handy.
What is a POS System?
A Point of sale (POS), also known as a point of purchase is the place where customers make payment for the goods/services purchased, and the transaction is completed. For example, if you are a retailer, the checkout counter is your point of sale.
Note: If you own a mobile (mPOS) POS system, your entire store becomes a point of sale as you can checkout customers from any place within the store.
The point of sale system is a combination of hardware and software components used to manage and streamline your business operations effectively. POS setups usually vary depending on your choice of technology, payment method, receipt printing method, and so on and so forth.
Previously, POS systems were mostly mounted on the counter and used to run on an on-site server. Therefore most computers, cash registers, barcode scanners, receipt printers, and payment processors used to be set up at one point and were hardly moved. The advent of cloud-based storage and computing in the early 2000s made a significant shift in POS technologies.
How do POS Systems Function?
We are aware that the core function of a POS system is allowing businesses to accept payments from customers and manage sales. With modern-day digitised POS systems, you can checkout customers from any location. A POS App and an internet-enabled device are the only things you need.
The customer purchases products/services from you. If you own a physical store, the sales associate proceeds with the transaction by collecting the payment and giving the customer a copy of the payment receipt. If you own an online store, the customer concludes the transaction by adding the selected products to their carts and making payment for the same.
Features to Look for in a POS System
1.Billing and Order Processing: The primary function of a point of sale system is to process orders and bills. Ensure that the POS system you choose can scan items easily, support multiple payment modes, can generate invoices, print receipts, and connect with customers via email to update them about discounts or gift cards, etc.
2.Reporting and Sales Management: Your point of sale system should be able to generate an extensive and reliable sales report of takings and outgoings so that you can determine the success of your business. You should also get access to sales trends like seasonal in-demand products, forecasts, stock management data, etc.
3.Inventory and Stock Management: A robust point of sale system will provide you with a view of your inventory, SKU transaction history, and more.
4.Returns Management: Some of the POS returns management modules include accepting cross-channel returns and facilitating refunds or offering replacements from a store.
5.Customer Relationship Management: One of the key factors for a business to thrive is customer satisfaction. Your point of sale system should help you retain customers and maintain a strong customer relationship based on their data and purchase history. Customer's information will help you offer a personalised customer experience.
6.Employee Management: There are POS systems that support employee management using which you can manage your staff, keep a track of their working hours, sales performance, etc. to determine employee productivity.
7.Loyalty and Gift Cards: Advanced point of sale systems allows you to track and manage your customer's loyalty incentives. Gift card sales increase every year. Therefore, your POS system must have the capability to manage them effectively.
What are the Components of a Point of Sale System?
There are two key components of a point of sale system - Hardware and Software.
Note: Every point of sale system needs POS software but not all POS systems need POS hardware. For example, if you own an online store, your sales happen online. Hence, you wouldn't need the hardware components for your business operations.
Listed below are the commonly used POS hardware and software types:
Hardware Components
1.POS Terminal: The device (including a desktop computer, iPad, or tablet) on which the POS software is installed is known as the POS terminal. Unlike earlier times when checkout processes used to happen at an established checkout counter, the introduction of mobile POS (mPOS) systems facilitates customer checkout from any location within a store. All you need is a reliable internet connection and a robust device.
2.Cash Register: These are used to calculate and process customer transactions.
3.Credit Card Reader: As the name implies, a credit card reader is used to allow customers to pay for their purchases using their credit cards. This ensures contactless payment in a physical store.
4.Cash Drawer: Even though most customers prefer contactless payments, there still are customers who pay in cash. To store the cash safely, you need a secure place. This is where having a cash drawer comes in handy. They are used not only to store cash but also other bills and receipts. These devices open and close when they receive a command from the POS software.
5.Barcode Scanner: This device is one of the most essential components of a point of sale system. Used to scan barcodes from an item and fetch the details related to the product, barcode scanners help in speeding up transactions, checking inventory levels, product availability, etc.
6.Customer-facing Display: This monitor is generally mounted on checkout counters and is used to display the total amount the customer owes and the cost breakup of the item. This ensures transparency and provides better customer service.
7.Receipt Printer: This device is used to print payment receipts for the customers containing information related to their purchase like the date of purchase, product name, SKU number, total amount, etc.
Software Components
Usually called the 'backend' of a point of sale system, software components are used for the backend management and analytics functions. The employees use the front-end interface whereas the back-end is accessed using a browser or app window. Both the front and back end interfaces work in sync and ease business operations. Robust POS software also allows you to operate and manage your entire business from one central location. There are two methods to store data - On-Site and Cloud-based. Under on-site storage, data is installed on your server locally and requires you to purchase software licenses to use them whereas cloud-based data storage, also known as Software-as-a-service (SaaS) is hosted online and allows you to access it from any browser. Some of the popular POS software are Square POS, Lightspeed, Shopify, and Vend.
Types of POS Systems
To determine if a certain POS system is the right fit for your business, you need to know about the types of point of sale systems available in the market. As discussed above, every point of sale system functions based on the configuration of the hardware components and the type of software used. Picking the right POS software is crucial as the overall performance of the point of sale system relies on the features and capabilities the software offers.
The popular types of POS systems are:
1.Mobile POS (mPOS) Systems: As the name implies, this type of point of sale system uses portable devices like smartphones, tablets, or iPads to process payments, manage inventory, and store customer information. A mobile point of sale system is the perfect option if you do not have huge volumes of inventory to manage and you can carry out your business operations on the move. Most mPOS usually support a credit card reader and a portable receipt printer in the bundle.
2.Terminal POS Systems: These are the ones that you usually see at the checkout counters of a retail store. The terminal point of sale systems rely on both hardware and software components and are usually sold as an all-in-one solution. These POS systems provide 24/7 customer support throughout the year and cloud backup.
3.Online POS Systems: To run an online point of sale system, you can use your own hardware such as a desktop or a tablet. The start-up cost of this type of point of sale system is low and speeds up low-volume businesses.
4.Self-service Kiosk POS Systems: Kiosk point of sale systems are designed to offer specialised solutions for specific purposes. For instance, you would come across self-service Kiosks in large retail stores that allow customers to check the availability and pricing of the products.
5.Multichannel POS Systems: This type of point of sale system is perfect for you if you sell your products in more than one online or physical store. This system integrates sales across your online store, social media pages, and storefronts. Therefore, you are less likely to run out of stocks.
6.Open-source POS Systems: This type of point of sale system allows you to customise the POS software so that it functions as per your requirement. To implement this, you need to appoint software engineers, thereby, making this type of software expensive as compared to the rest. However, open-source POS systems are the perfect option for large scale businesses with exclusive POS needs.
Benefits of a POS System
1.The right point of sale system helps smaller brands deliver prompt and friendly service almost at the same rate as larger brands. Business owners of every size can track sales, inventory, employee performance, payroll, and other information conveniently. Instead of entering all the information manually, data can be tracked automatically and in real-time.
2.POS systems help get rid of monotonous and repetitive tasks and you can focus on other essential tasks, thereby enhancing productivity.
3.Inventory management is easy with a point of sale system. You can keep track of products and inventory levels in real-time. This will help in streamlining product management.
4.Point of sale systems helps in increasing sales.

5.Business scalability is no longer vexing as POS systems increase integrations and upgrade service features as your business expands.
|
6.You can provide the best and most personalised customer service with the help of the data stored in the POS storage.
7.You can easily track and manage employee output and determine their productivity.
8.Security is one of the top concerns of any business. Most POS systems offer high- security levels and tools, and offer end-to-end encryption for the customer checkout process.
9.Multiple payment options is one of the biggest advantages of a POS system.
10.A powerful point of sale system allows development of a customer loyalty program conveniently. You can use brands like Square, Lightspeed, and Clover to create unique gift cards to set up customer loyalty programs.
11.A point of sale system is easy to set up and use. You can minimise workload, enhance time management and implement automation to accomplish multiple tasks simultaneously.
12.Lastly, opening new stores and adapting to changing business requisites is easy with the perfect POS system.
Conclusion
A point of sale system is an essential element for the smooth functioning of any business. Therefore, you must pick your POS system carefully. To do so, you need to understand your business type to know your business requirements. This will help you determine the features you would need in your point of sale system. At the same time, consider the budget you would invest in the point of sale system and choose the right one for you.
If you are looking for high-end POS solutions, POS Sales Australia is your one-stop destination for all the POS needs. Our experts will help you pick the right POS system for your business.